Swap Closed! It reached 87 people in a mere 1 1/2 hours. :) If this works out well, maybe we can do another, perhaps by age and level.
I will notify the first thirty people soon.
Update: Someone pointed out that there's no way the $5.20 flat rate box will be big enough. Please include $14.95 when you mail your bags to cover the shipping costs of the large flat rate box. Should I be able to make it all fit in a medium box, I will return the extra.
I understand if this is too much. If you'd like to be removed from the list, please email me (link in sidebar) and I will remove you from the list.
As I've been looking at many activity ideas for my kidlets, I came across the wonderful idea of busy bags (or activity bags). A busy bag is a ziploc bag containing a simple, sometimes educational, activity for your child to do either with you or while you need to get other things done.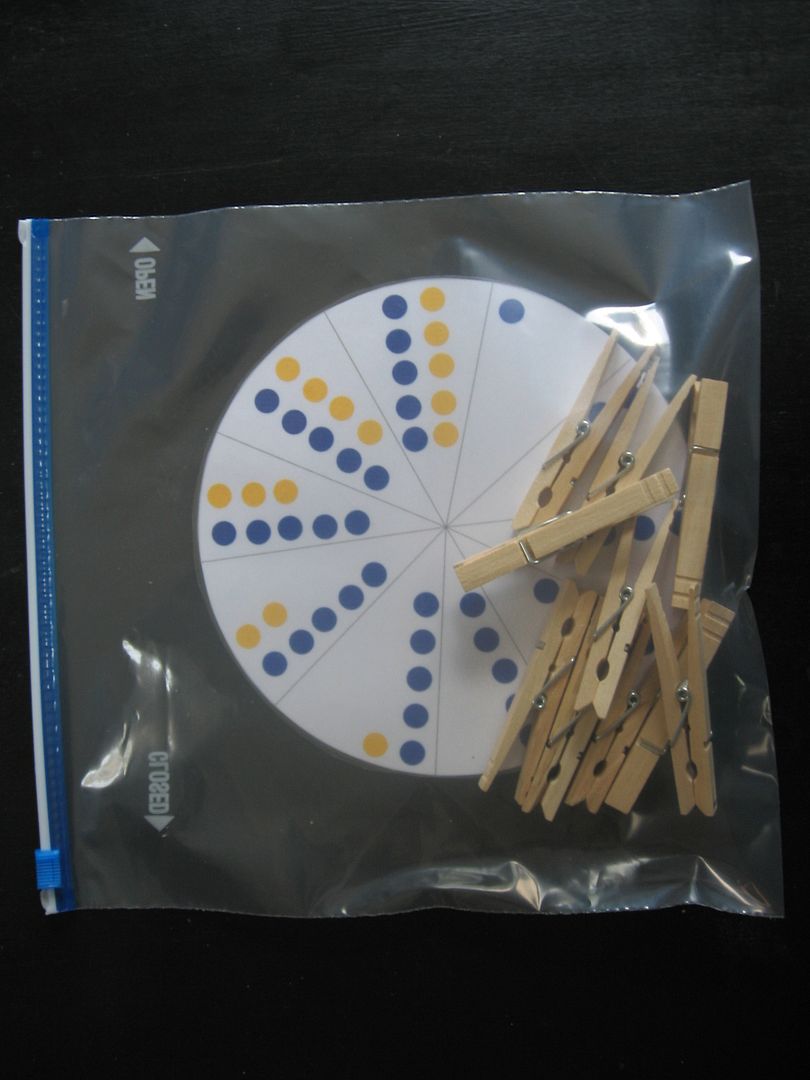 I found an incredible endless supply of ideas at
My Delicious Ambiguity
(scroll past sequencing cards). I got so excited about the possibilities that I decided to create a few, only mine never made it into bags, because I've put them together at the moment my kids did them.
As I've tried to put a bit more structure into my chidren's days, I've added an activity time to the morning. This has been wonderful for Ethan, my two year old michevious, mind of his own, mess maker. Starting his day off with structured creativity has decreased his mess making trouble during the rest of the day. These activity bags are perfect for that.
I got to thinking that it would be nice to have a bunch on hand to pull out when needed. It would take a lot of time and work to create a lot of different bags. So why not do a swap?
Wanna join me?
Here's how it would work:
1) You fill out the form below. Once 30 women have signed up or
Friday afternoon
hits (which ever comes first), the form will be taken down.
2) I email you
Friday
to let you know you made it into the swap.
3) You reply by
noon on Monday
with your top three choices or activity bags to create, because I know a lot of you are super creative). Or reply and let me know if you just want one assigned to you. Look around online for ideas if you need them.
4) I will make sure we have no repeats, then email you all back
Monday night
telling you which activity you will do.
5) Each of us would assemble 30 bags with one identical activity in each bag. (Ex. I would make 30 bags with lacing supplies. You would assemble 30 bags with pom pom sorting supplies.) You may find Oriental Trading to be a good resource for bulk supplies.
6) You should invest
no more than about $1 per bag
. We're not wanting to spend a fortune here.
7) Mail your bags to me by
Wednesday, May 18th,
using any shipping method you prefer. Please include $14.95 to cover the return shipping (the cost to ship one large flat rate box. If I am able to ship 30 bags for less, I will return the extra.)
8) I will sort through all the bags, divvy them up so everyone gets one of each, and mail the collection to you on
Monday, May 23rd
.
9) We then each have a collection of about 30 activity bags to pull out when needed!