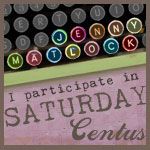 It was just an ordinary November afternoon - calm, a bit cloudy, and just a touch of nip in the air. Only a few days left before the Thanksgiving crowd would show up on my doorstep. I tried to push my overflowing cart of groceries faster. That's when I felt a tap on my shoulder. "Strange," I thought. I turned and nearly screamed. There… right there in front of me was a giant turkey.
"Pardon me," said Tom T. Urkee.
"But I believe that's my uncle you've got in your cart."
Jenny Matlock
gives a story prompt each week. If you like to write, check it out. It's always 100 words or less, so it doesn't take a lot of time. Yay!