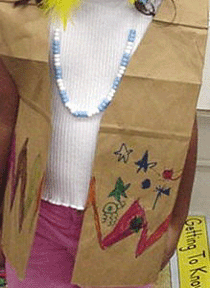 Remember these paper vests? My brothers and sister and I made these several times many, many years ago. I was doing some remembering today... thinking back to childhood holidays. Most of the things that make me smile were simple and creative little things my siblings and I did together.
Then I got to thinking about my children. I want to create memories with them now so that they will look back on their childhood holidays and smile in the future.
Tomorrow, I think we shall play a simple version of this
Mayflower Voyage game
and make paper bag Indian vests and headbands. I was looking through
Little Giraffe's Thanksgiving page
and found such a neat collection of ideas to stash away for mext year.
What do you plan to do with the kids this Thanksgiving season? (This isn't one of those questions at the end of a blog post in an effort to interact with the readership... this is an honest curiosity question. He he he.)